Polnoon is a new 121-home extension to an historic planned village in East Renfrewshire. The development, initiated and led by the Scottish Government, offers a high quality addition to the existing settlement, and sensitively places carefully-designed 21st century homes alongside a fine example of 18th century place making.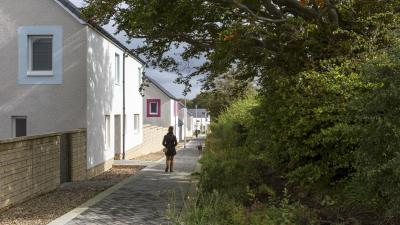 Polnoon is on the western edge of Eaglesham, approximately nine miles southwest of Glasgow. The original planned village was laid out by Alexander Montgomerie, the 10th Earl of Eglinton, in the 18th century, and today forms an important Conservation Area.
In developing the 5.6 hectare site, key objectives were to create a vibrant streetscape, and provide a thoughtful transition from historic, through contemporary, to rural. The ethos of the design rejects the impermeable cul-de-sac arrangement and the 'plot-by-plot' approach of many suburban expansions, and instead provides a clear hierarchy of shared surface public realm spaces – streets, lanes, courts and a central square – to create a more pedestrian-friendly environment.
Architecturally, Polnoon uses standard house type plans, which have then been developed with reference to Eaglesham's historic context. Particular attention has been paid to elevations, such as the introduction of gable windows and chimneys to create a readable and dynamic streetscape. With shared surfaces, these features will animate the street scene and improve passive surveillance.  A series of more prominent and carefully-positioned 'marker' homes augment Polnoon's spatial hierarchy, providing termination to street and lane vistas and creating visual interest.
The scale, proportions and configurations of houses at Polnoon are designed to reflect those of traditional rural buildings in Scotland. Dwellings will be 'stitched' together with garden wall ribbons of differing heights and textures to provide street edge continuity as well as a strong sense of enclosure in some of the more intimate courts. This will also help to provide shelter and protection from the extremes of the moorland climate.
Polnoon uses a simple yet effective materials palette that offers variety and visual interest. All houses share a base palette of masonry plinths, white textured rendered walls and tile roofs – similar to the materials used in nearby historic properties. Pigmented render will be used to accentuate window surrounds with asymmetric bands of colour – a contemporary take on a typical vernacular feature – while large cladding in places offers both a more contemporary presence and a reflection of Polnoon's rural setting.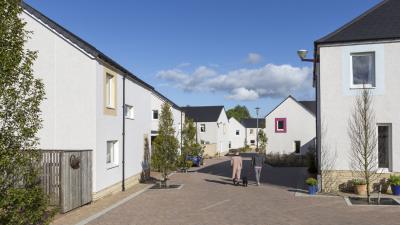 A range of new house types (from one bedroom cottages to six bedroom houses) will provide a mix of affordable, shared equity and private housing to suit different household needs, and provides more opportunities for people to stay and live in the locality. Affordable housing (one and two bed apartments) is placed at the heart of the development, where all routes converge on the central square, and with a design totally in keeping with the rest of the development.
Polnoon's success has been made possible through the enthusiasm, commitment and close working dialogue between the design team, client (housing developer -Mactaggart & Mickel Ltd), local authority planning and highways officers, all orchestrated by Susie Stirling, Principal Planner at the Scottish Government.
During the project's evolution challenges to the ambitious design agenda were debated and resolved in a true spirit of collaboration – never losing sight of the common goal to create a great place to live for the 21st century. Crucially, Polnoon has much needed new homes, and a sensitive counterpart to an older, and greatly cherished, piece of planning and place making.