Located within the Carpenters neighbourhood, in the London borough of Newham, James Riley Point (JRP) forms the first phase of a comprehensive masterplan to regenerate and restore this 1960's estate. The Masterplan developed by both Proctor & Matthews Architects and Metropolitan Workshop covers ten hectares and proposes the delivery of 2,200 new and restored homes alongside extensive space for makers and retail businesses, a hotel, community facilities and a new Carpenters Craft College. 
The townscape driven masterplan configures a spatial hierarchy of principle streets, mews, squares, and open space, which supports a variety of building heights and density. Based on London's traditional neighbourhood structures the plan will deliver residents aspirations to see housing for all sectors of the community within a public realm designed for people.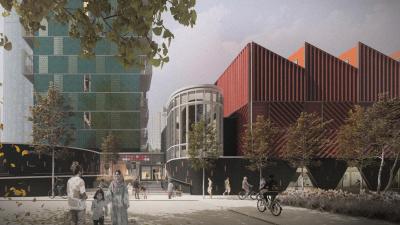 JRP is one of three twenty-three storey residential slab blocks built on the Carpenters estate in the late 1960's. It occupies a pivotal location within the new masterplan framework and has been earmarked for retention and restoration. Raised above the surrounding street levels and set on eight large sculptural columns (pilotis) the typology is clearly inspired by Le Corbusier's Unité of the time, but with none of the iconic architectural expression, community facilities or connected ground plane that make the originals more successful. Nearly all the 132 apartments within the building are now empty and the raised podium entrance level feels remote and foreboding.
Today the building stands semi derelict at the centre of a large triangular site, surrounded by poorly structured landscape and three existing streets: Carpenters Road to the South, Jupp Road to the east and the lower scaled residential Doran Walk to the north. The existing structure and  site offer a unique opportunity to provide new facilities for Carpenter's existing community and sports facilities as well as providing new homes within JRP's concrete shell. This combination of facilities helps anchor the structure at the centre of the newly configured masterplan. 
Ensuring that this project meets the needs and desires of the community in which it is built, the residents were engaged at each design stage to inform the level of interventions and design decisions. Throughout the various consultation activities, the design team kept track of the conversations through a resident influence checklist which was used to ensure the emerging proposals were aligned to resident feedback. All the engagement was carried out in our on-site hub called 'The Dovetail'. Empowering the community through this process of co-design will lead to a strong sense of ownership and belonging.