The Riverside Sunderland Masterplan, designed for Sunderland City Council and their development partner Igloo Regeneration, will reinvent the heart of the city whilst drawing on its industrial heritage to create a new, vibrant 21st century urban quarter.
Working in collaboration FaulknerBrowns Architects, with specialist input from MawsonKerr Architects, the masterplan sets out the revival of a 33.2 hectare site adjacent to the city centre and spanning both sides of the River Wear. The site is characterised by a dramatic topography and views across the river. The new low carbon quarter will create 1,000 new homes with community facilities and social infrastructure for a population of 2,500 and a range of workplaces for up to 10,000 people. Riverside Park will be the focal point of Riverside Sunderland accounting for approximately half of the total site area. An upgraded boulevard will reconnect the park to the city and new bridges will connect communities on the north and south banks of the river.
The masterplan is sub-divided into five urban quarters, each with a distinctive character - four of these quarters will be mixed-use residential neighbourhoods designed by Proctor and Matthews and inspired by the city's historic patterns of development to create a new hierarchy of streets, squares and mews. Drawing on the dramatic industrial silhouette of the past, the masterplan looks to create a new distinctive edge profile to both banks of the River Wear reinstating the city edge. Three exemplar house types based on local and regional precedents, including the much-loved Sunderland Cottages, Pele House Apartments and Wearside Maisonettes have been designed specifically for the site's topography. The new homes will cater for a diverse demographic and changing 21st century lifestyles, providing places for homeworking and a range of private and communal amenity spaces.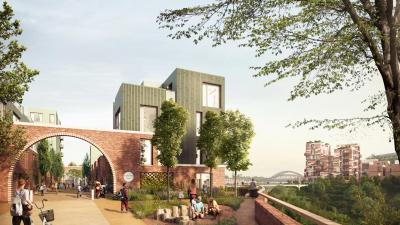 In line with Sunderland City Council's ambitious plans to achieve carbon-neutral status, all homes will be energy efficient, built using modern methods of construction, and promote the use of renewables and smart energy networks.
The masterplan also includes one million square feet of varied and flexible office space in a new central business district. The CBD will bridge the gap between the historic city centre and the riverside community and re-establish the city centre as a successful and dynamic business location.
"Riverside Sunderland will transform a part of the city that has vast potential. It's a masterplan that will reinvigorate the city in a wider sense too – creating a place we can be proud to call the heart of Sunderland." Graeme Miller, Sunderland City Council
The first of the four residential neighbourhoods, known as Vaux, designed by Proctor and Matthews and Mawson Kerr providing 126 new homes has been submitted for planning. Vaux is due to be completed by 2023, in time for the Sunderland Future Living Expo, a public event that will showcase a new way of city living and the transformation of Riverside Sunderland into a vibrant new place to live.