The design of two holiday cottages on the Isle of Benbecula in the Outer Hebrides has been inspired by the surrounding coastal landscape and the island's early Blackhouse forms to create a retreat that celebrates the dramatic context. Set on a rocky outcrop, the cottages are bound together by a stone gabion wall that gives shelter and contextual presence to their otherwise contemporary appearance. The design of these modest buildings makes reference to historic Scottish kale yards, sheep stells and Crannogs. The buildings and bicycle stores are clad in black corrugated metal sheeting, reflecting an evolving island aesthetic, while vibrant window hoods provide coloured accents within the grassland setting and frame views to the distant Cuillin Mountains.
Internally, the tranquil light-filled spaces encourage a connection with nature and provide an opportunity to observe the Island's wildlife including deer, owls and eagles.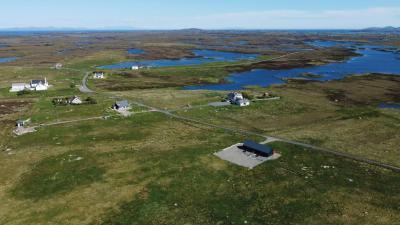 The design for Kirrin Cottages builds on Proctor and Matthews' research undertaken for the Outer Hebrides Design Code and 'Kit House Study', assisting with tourism in this remote location. The project utilised offsite construction techniques using pre-fabricated insulated timber frame, with much of the work on site, including the stone gabion wall, undertaken by owner and manager of the cottages. The cottages provide living and bedroom space for up to four guests.