In collaboration FaulknerBrowns Architects, with specialist input from MawsonKerr Architects and landscape architects Camlins, we have announced a collaborative masterplan design that will reinvent the heart of Sunderland whilst drawing on its industrial heritage.
Designed for Sunderland City Council and their development partner igloo Regeneration, the masterplan sets out the revival of a 33.2 hectare site on both sides of the River Wear, creating a low carbon urban quarter, building 1,000 new homes with community facilities and social infrastructure for a population of 2,500 and creating various workplaces for up to 10,000 people. Riverside Park will be the focal point of Riverside Sunderland. With a land area of 13.7 hectare and a water space of 5.3 hectares, the park accounts for approximately half of the total site area. An upgraded boulevard will reconnect the park to the city and new bridges will connect communities on the north and south banks of the river.
The masterplan, which we are leading jointly with FaulknerBrowns Architects is sub-divided into five urban quarters: Vaux, Sheepfolds, Farringdon Row, Heart of the City and Ayre's Quay. The quarters are bound together by the re-vitalised Riverside Park.
Four of these city quarters will be mixed-use residential neighbourhoods designed by Proctor & Matthews, each with a distinctive character. Together, the design team has developed three exemplar house types based on local and regional antecedents, including the much-loved Sunderland cottages, Pele House Apartments and Wearside maisonettes. These house types have been designed specifically for the site's topography, where they will provide a strong and distinctive silhouette and make the most of riverside and green space views whilst aiming to achieve a harmonious connection between built form and public realm, and to promote sociability and neighbourly interaction. Sunderland City Council is developing an ambitious plan to achieve carbon-neutral status, meaning homes will be energy efficient, built using modern methods of construction (MMC), and will promote the use of renewables and smart energy networks.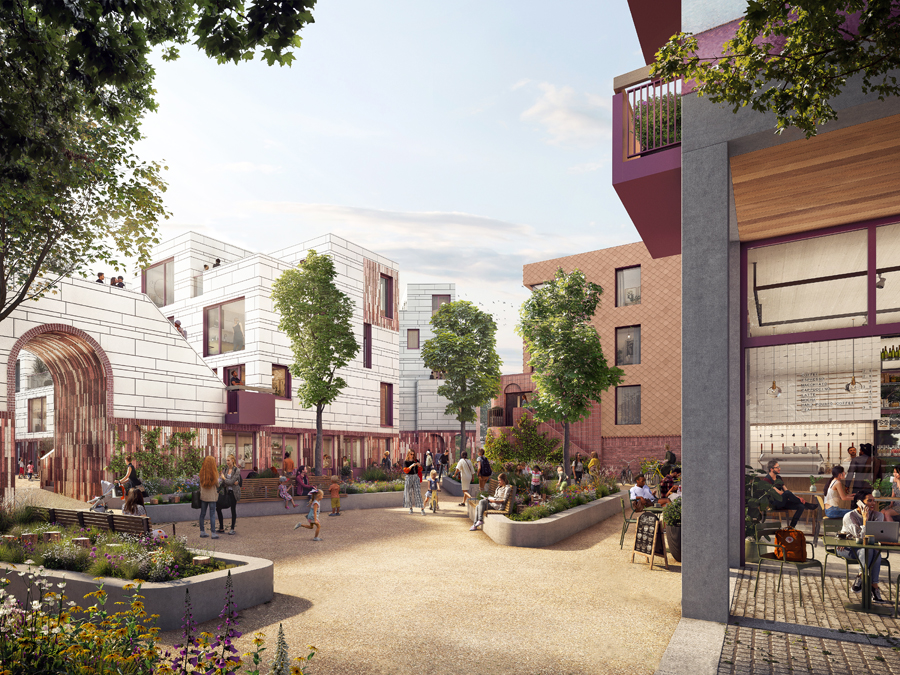 The first of the four residential neighbourhoods, known as Vaux, is being developed by Proctor and Matthews and local practice Mawson Kerr, will include 126 homes.  It Includes  a mix of three- and-four storey terraced houses combined with contemporary maisonettes and six-storey Pele House apartments positioned in key locations, inspired by historic precedents.
The masterplan also includes one million square feet of varied and flexible office space in a new central business district. The CBD will bridge the gap between the historic city centre and the riverside community and re-establish the city centre as a successful and dynamic business location. Located here is the new Sunderland City Hall—currently under construction—which will be the headquarters for the City Council but also a public access point and civic events space.
Andrew Matthews, Founding Director at Proctor & Matthews Architects says: "The Riverside Sunderland Masterplan creates a framework for development and placemaking which captures the Wear's unique topography within the heart of the city centre and will create a vibrant 21st century urban quarter. Avoiding the ubiquitous perimeter block model which has become the default position of many recent urban city plans, Riverside Sunderland looks more carefully at the city's historic patterns of development to create a new hierarchy of streets, squares and mews, providing active spaces for social interaction. Drawing on the dramatic industrial silhouette of the past, the masterplan looks to create a new distinctive edge profile to both banks of the River Wear."